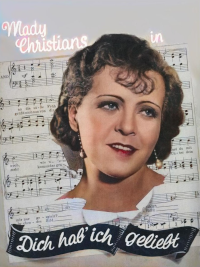 Original Title: Dich hab' ich geliebt. Love drama 1929; 101 min.; Director: Rudolf Walther-Fein (film), Hans Conradi (sound); Cast: Mady Christians, Trude Berliner, Sophie Pagay, Hans Stüwe, Walter Jankuhn, Karl Platen, Fritz Alberti, Hans Mierendorff, Jaro Fürth, Hermann Picha, Marion Conradi; Aafa-Tobis-Film.
A married former actress gets compromised by a colleague who once seduced her. Her husband divorces her but, after she fails to rekindle her career, he reconciles with her for the sake of their child.
Summary
Gala premiere of the new operetta. For the celebrated singer Inge Lund, it will be hours of the greatest triumph… She plays more ravishingly than ever before. The audience is thrilled, and when she sings the hit of the evening together with her partner Otto Radney, the cheers of the packed house know no bounds. "It's You I Have Loved," so begins the song, beguiling in the sweetness of its melody…
A single seat is left empty… Dr. Hubert Baumgart, Inge's fiancé, couldn't free himself that evening, couldn't miss an important supervisory board meeting. All too painfully, Inge feels it right now in the rush of her success… A celebration, centered around Inge and Otto, concludes the evening. When they leave at night and Inge gets into the car, Radney imposes himself on her as a companion. And intoxicated by the champagne, no longer able to control her senses, Inge becomes Radney's lover that night.
A few days later, at the request of her fiancé, Inge has cancelled her contract with the theater. Hubert does not allow her to continue working on the stage as his wife. Like a colorful dream, what her soul once clung to, art, now lies behind her… and like a shadow, threatening, that last night in Berlin.
Years have passed. The celebrated stage artist has become Mrs. Dr. Baumgart, who is the best companion to her husband and the best mother to her little girl. But it is lonely in this big beautiful house she now lives in. Her husband never has time for her. He works restlessly, non-stop – – and in the overabundance of his duties forgets his duty to his young wife, forgets that she also sometimes has a need for distraction and amusement… But Inge does not want to complain… With all the more tenderness, she surrounds what is now her greatest happiness. Her child.
Then something unexpected happens. An operetta ensemble from Berlin makes a guest appearance in the small industrial town, and the star of the troupe is Otto Radney. lnge, whom he happens to see, revives old memories in him – – he tries to force a meeting. Inge resists with all her might, but nevertheless accepts to meet him for fear that he might make a hasty move.
Radney implores Inge to return to the stage. But she rejects all enticements, asking Radney only to leave as soon as possible and not to disturb the peace of her marriage. Thus, she hopes to have escaped the danger… But Radney's jealous colleague makes innuendos to Dr. Baumgart that arouse his suspicions. He confronts Radney, and his silence reveals the truth to him.
Divorce is soon decided upon, the child remains in the care of the father. Inge returns to the stage, but without her earlier success. Broken on the inside, she no longer has the strength to conquer the audience. She resigns herself to smaller and smaller roles, finally ending up in the chorus, with only the bare minimum to live on. But she does not care about her own misery, only the thought of her lost child torments her day and night…
After some time, her path leads her back to the small town where she spent the years of her marriage. She is to give a guest performance here with a theater troupe. Shortly before the performance, she secretly goes to Baumgart's house. The child is alone. – – Her mother pulls her daughter close and covers her with kisses. Baumgart, a bystander to this heartbreaking scene, reaches out his hand in reconciliation to the woman who has been purified by suffering.
Review
By Ernst Jäger, Film Kurier No. 279, November 23, 1929:
So we end the premiere with white flags – handkerchiefs raised by the audience.
Such emotion, such emotion!
Where fathers howl, mothers sob, children whimper, Aafa can't help but laugh along. As the film ends, everyone melts in a sea of emotion.
Success observers take note: tear drops top Sonny Jolson by millimeters. Theater owners wept with joy; with this good news, they hope to ensure their success in the sound film distribution business.
Despite all the initial shortcomings, the giant family operetta film with its latest technology is compelling. Grandpas of the film industry, rest in peace: with this sound reproduction system, even birch tree whistles can be heard.
Should we be ashamed of this genre? Not at all. Laughing film, joke film, farce, situation comedy, if you will hear them speak in the cinema, what hours of rest for millions are thus created!? Its for trendless entertainment that you should fight the hardest to get the best talents. We have them here! The silent Aafa people have experience in such entertainment films. It is strange that in the visual part of their first sound film – directed by Rudolf Walther-Fein – they did not fully embrace humor. (The person responsible for the screenplay: Walter Reisch.) An attempt and proof that they can do it: the gurgling scene of a tenor getting up. Hilarious. What an atmosphere of farce! Sound, word, song – – how it all harmonizes. Complete illusion of life is amazingly created. Next to it, the "seriousness" of the film. The alarming spectacle of a misunderstood, decent woman. Silent monologue situations that one does not understand. Soul struggles of a wife and opera singer in close-ups. With the slow pace of sound film.
And such awkwardly drawn characters. A husband who hardly knows his wife's theater partner, – nor his wife or the tenor for that matter – ; a few thoughts, and all these characters would have come alive. So they have to remain talkie-like.
For one listens only to their sound film statements, lets oneself be captivated only by the sound film enrichment, driven forward by Aafa's significant progress.
The sound film aspects are a step forward. Despite the randomness of the acoustic clutter, which is also typical of this Tobis product; the sound-noise and speech-mess, the uneven mixing of Mr. Hans Conradi. Sound production director: Rudolf Schwarzkopf.
The dialogues. No co-director of the film has a special talent for language, an artistic sense for word melody. One lets sentences through, intended for the hard of hearing in exact articulation. Others are swallowed up by superimposed music. Other parts of the dialogue remain completely silent. The lisps are probably technical defects.
The subsequently added music seems more harmonious than the simultaneous image-sound recordings. The hollow sound of such scenes is not completely avoided. Undistorted sound is still the exception.
The crackling sound during cuts is irritating.
We're on the right track though.
A child speaks with a Berlin accent. It's not so much talent as it's nature learned from listening to others speak. A real miracle – it grabs the audience. How she recites her prayer or counts the gifts at the birthday table (Maria Conradi).
Mady Christians also has some quite genuine moments when she plays pouting comedy. She should build her sound film career on that.
For she has the greatest chances: here, as the first German diva, she overlooks the pitfalls of speaking and singing. She had made significant mimic improvements in "The Burning Heart," now the spoken word enriches her in new, unexpected ways.
Sentimental and without nuance, Hans Stüwe. No match for Ms. Christians.
Some notable episodes. Karl Platen, Trude Berliner, André Pilot, Sophie Pagay.
The musical part is solved in a technically appealing way, even if Schmidt-Boelke does not bring more to the table than a useful score. The main song "It's You I Have Loved" by E. May – graceful and cleverly embedded.
Very clever two casually inserted cabaret interludes, with a Negro duo and a Spanish dancer. A whole potpourri of such effective sound film stimuli increases the effect of the film.
A thoroughly original way of exploiting American inspirations.
It is remarkable how correctly the Aafa men have taken into account the entertainment potential of sound film, without stifling the acting itself.
In conclusion: Aafa's first conquest in sound. The most colorful achievement in German sound film to date.