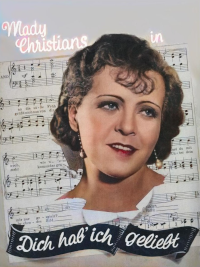 Original Title: Dich hab' ich geliebt. Love drama 1929; 101 min.; Director: Rudolf Walther-Fein (film), Hans Conradi (sound); Cast: Mady Christians, Trude Berliner, Sophie Pagay, Hans Stüwe, Walter Jankuhn, Karl Platen, Fritz Alberti, Hans Mierendorff, Jaro Fürth, Hermann Picha, Marion Conradi; Aafa-Tobis-Film.
A former actress, now married, gets compromised by a colleague who had once seduced her. Her husband divorces her, but upon seeing her career falter and fail to rekindle, he reconsiders and reconciles with her for the sake of their child.
Summary
The much-anticipated gala premiere of the new operetta is the greatest triumph for celebrated singer Inge Lund. Her performance is more ravishing than ever, delighting the packed audience and eliciting cheers when she and her partner, Otto Radney, sing the hit of the evening, "It's You I Have Loved" ["Dich hab' ich geliebt"]. The beguiling sweetness of the melody has everyone spellbound.
A single seat remains vacant—Dr. Hubert Baumgart, Inge's fiancé, cannot attend the evening's festivities because of an important meeting of the supervisory board. Inge is acutely aware of his absence, yet cannot deny the elation of her accomplishments. The celebration culminates with Inge and Otto, and as they depart, Radney joins Inge in the car. Under the influence of champagne, Inge loses control, and that night she and Radney become lovers.
A few days later, at her fiancé Hubert's request, Inge cancels her contract with the theater. He does not permit her to pursue her artistic career any further, now that she is to be his wife. Like a beautiful dream, the art that her soul has so long been devoted to now lies behind her, like a menacing shadow from her last night in Berlin.
Years have passed and Mrs. Dr. Baumgart has settled into a big, beautiful house. Although her husband works tirelessly and non-stop, neglecting his duty to her, Inge does not complain. Instead, she finds her greatest happiness in their daughter, and she surrounds her with all the more tenderness. Despite the loneliness of her situation, she is the best companion to her husband and the best mother to her little girl.
Then something unexpected occurs: an operetta ensemble from Berlin makes a guest appearance in the small industrial town, with Otto Radney as the star. When he catches sight of Inge, old memories are stirred up and he attempts to force a meeting with her. Inge resists fiercely, yet for fear of him making a rash decision, she reluctantly agrees to meet him.
Radney desperately attempts to persuade Inge to come back to the stage, but she refuses, asking him only to leave and not to disrupt the harmony of her marriage. She believes she has avoided the danger. However, Radney's envious colleague makes insinuations to Dr. Baumgart, which stirs up his doubts. When Radney does not respond, Dr. Baumgart realizes the truth.
Divorce is quickly decided, leaving the child in the father's care. Inge returns to the stage, but without the success she once had. Her spirit broken, she no longer has the vigor to captivate the audience. She resigns to smaller, less noteworthy roles, eventually joining the chorus, barely making enough to survive. Yet, she is not concerned with her own despair; the only thing that disturbs her day and night is the thought of her lost child.
Her journey brings her back to the small town where she has spent her married years. She is about to give a guest performance with a theater troupe. Before the performance, she secretly visits Baumgart's house and finds the child alone. Her mother embraces her daughter tightly, showering her with kisses. Baumgart, who witnesses the heart-wrenching scene, extends his hand in reconciliation to the woman, who has been purified by her suffering.
Ernst Jäger's review in Film Kurier No. 279 (November 23, 1929)
We end the premiere with white flags—handkerchiefs raised by the audience in an outpouring of emotion. Fathers howl, mothers sob, children whimper and even Aafa can't help but laugh. As the film ends, everyone is left in a sea of emotion. Observers take note: the tears of the audience surpass those of Sonny Jolson by millimeters. Theater owners, relieved and joyous with the good news, hope this success will guarantee their success in the sound film distribution business. Despite the initial shortcomings, the giant family operetta film with its latest technology is compelling. Grandpas of the film industry rest in peace: with this sound reproduction system, even the faintest of birch tree whistles can be heard.
We should not be ashamed of this genre at all; laughing films, joke films, farces, and situation comedies all offer hours of rest for millions of people. It is important to fight the hardest to get the best talents to create trendless entertainment, which the silent Aafa people have experienced. Rudolf Walther-Fein is directing a sound film that does not fully embrace humor, though the screenplay is written by Walter Reisch. There is one comedic scene between a tenor and his gurgling that is creating a great atmosphere of farce. The sound, word, and song all harmonize to create a complete illusion of life. Yet, amidst the humor, there is also a serious element of a misunderstood decent woman. Silent monologue situations would make the characters come alive, but they remain talkie-like, as the audience can only listen to their sound film statements. Aafa's significant progress in sound films is quite remarkable.
The sound film aspects are a step forward, despite the random acoustic clutter that is typical of the Tobis product. Speech-noise and sound-mess, the uneven mixing of Mr. Hans Conradi, the production director Rudolf Schwarzkopf, are all present. Though no co-director of the film has a special talent for language, or an artistic sense for word melody, sentences intended for the hard of hearing are articulated in exactness while others are swallowed up by superimposed music and some parts of the dialogue remain completely silent. The lisps are likely technical defects, and the subsequently added music is more harmonious than simultaneous image-sound recordings, though the hollow sound of such scenes is not completely avoided and undistorted sound is still the exception. The crackling sound during cuts is irritating, but we are on the right track.
A child speaks with a Berlin accent, which is not so much a result of talent as it results from nature, learned simply by listening to others speak. This remarkable ability to imitate accents grabs the attention of the audience. In her roles, Mady Christians displays genuine moments of pouting comedy, something she should capitalize on and use it to build her sound film career. As the first German diva, she has the potential to avoid the pitfalls of speaking and singing, something she has improved upon in The Burning Heart [Das brennende Herz, 1929, directed by Ludwig Berger]. In this film, her spoken word enriches her performance in unexpected ways. In comparison, Hans Stüwe's performance is sentimental and lacks nuance. There are some notable performances from Karl Platen, Trude Berliner, André Pilot, and Sophie Pagay. However, none can match Ms. Christians.
The musical aspect of the film is solved in a technical and pleasing manner, with Schmidt-Boelke's score providing a useful foundation. The main song "It's You I Have Loved" ["Dich hab' ich geliebt"] by E. May is graceful and cleverly implemented. Two cabaret interludes featuring a Negro duo and a Spanish dancer are casually inserted, and these add to the overall effect of the film. The Aafa men do a remarkable job of considering the entertainment potential of sound film without stifling the acting.
In conclusion, Aafa's first conquest in sound is the most colorful achievement in German sound film to date.